Every person has a
Gift to give,
Purpose to live,
and
Vision of a better self and world.

If you don't discover your Purpose
and decide how you will live it...
you won't.
When you hear a solid "YES" to the question "Do I want to live On Purpose," a creative power flows into your mind.  You unconsciously give up the right to be a victim to anything or anyone.  The next question emerges naturally… "What is my Purpose"? Following that, the next step becomes obvious as well, discover your Purpose and learn how to live it.
We each live and die in the service of something. Will you live and die in service of Fear or your Purpose for existing?
The commitment to discover and live On Purpose will illuminate the path and reveal each next step. There will be times to forge ahead trusting your own guidance and direction. There will be other times when guidance can be valuable and, most likely, times when you are stuck or completely lost. These are all stages through which, if you persist, you will learn much and find your way to continual advancement. There are many ways to the realization of your path and Purpose. You may have heard the adage, "many paths, one Way". For sure you will discover that the path of Purpose follows The Way of Love.
If you decide to live On Purpose, you do not need anything else—your purpose will reveal itself and teach you how to live it. Yet, if you're like most people, your Purpose is not readily obvious to you.
Are you ready to stop seeking and start practicing?  
We find ourselves here in the midst of an experiment of being – "human beings". Yet, clarity of our sovereign purpose for existing, the reason why we are here, and inspiration to continue may seem obscure and vague at times. Working, making money, raising a family and/or providing valued services are important elements of our life, but not the essence of it. While there are endless philosophies and great books sharing the wisdom of the ages, we did not come equipped with a manual for how to Discover and live our lives On Purpose. Here at On Purpose Now Enterprises, we are writing the manuals.
Purpose, connection and value is an underlying impetus in the existence and motivation of humanity. We seem to work tirelessly to find and create these for ourselves and each other. Some of our strategies work for a while, but mostly return us to fleeting results with only temporary satisfaction. Still, our existence persists even when we have lost all sense of purpose, connection and value in life.
The Discovery of your Life Purpose is to arrive at the very core reasons for existing.  
Mike Valentine, his Team On Purpose, and this website are fully devoted to encouraging and empowering a release of fear through a shift to discovering and living On Purpose Now.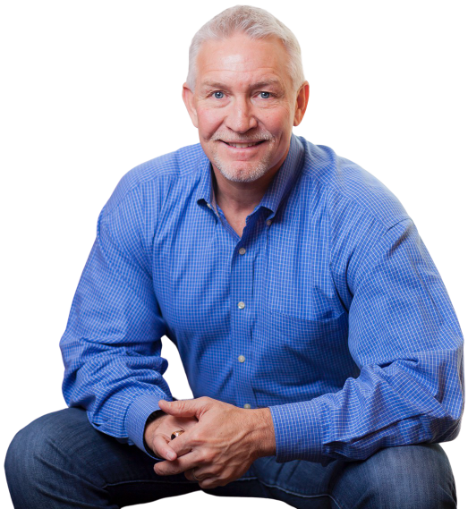 Hello, I'm Mike Valentine.
Thank you for visiting our website!
I have the honor of serving and making a living as a Life Purpose Guide. I view living On Purpose as an art, science and sport. Life is the daily arena and Fear Hunting is my craft. I'd be honored to support your journey through fear to Purpose …if it is a right next step for you.
See a 2-minute overview On Purpose...
It is our hope that this website will help you answer important questions about discovering and living your Life Purpose.
If you are looking for access to a transformational power of Purpose as well as reliable personal power, it is available here.
Our commitment is to make it accessible in a way that you can find what you are looking for. The challenge is to save you from dredging over heaps of content that is irrelevant to your current situation or degree of readiness. This seems a delicate balance and we are learning continually.
If at any point you have the sense of being lost, overwhelmed or confused, we would love an opportunity to be of service in your journey. Please do not hesitate to use our "Contact" tab to get in touch with us directly. We love answering your questions, steering you to the right resources and/or giving a guided tour to support your awakening process.
HOME:
It is our intention to give you a sense of who we are, the approach to our work and a general idea of its flavor. We hope you have felt a warm welcome and delight in our work. It would be an honor to work with you if we are a true fit for a next step in your journey.
YOUR GUIDE:
From Mike Valentine… the trust you grant and honor of serving as your Life Purpose Guide is taken with great reverence for you and your journeys. While I have achieved a level of mastery in my own experience of discovering and living On Purpose and guiding others, I am still a "human in training" (HIT) just like you. We learn and live On Purpose together. Acceptance of where we are is a doorway to Purpose. No matter where we are in our respective journeys we are completely equal in our shared learning opportunity. Thank you for your interest in our knowledge and services. If you choose to engage me or our services I promise to take the responsibility to serve you and your Purpose as fully as I am able.
You can learn more about Mike on the "Your Guide" tab.
DISCOVERING PURPOSE:
There is much information available about the value, importance and power of Purpose. Yet where and how to discover it can be a monumental obstacle. There is also massive confusion between goals or profession and Purpose. We have pioneered a discovery process that guarantees success. Your Gift, Purpose and Vision lay like a shining treasure underneath the events where your heart was broken and you covered love with fear. There is more about this on the DISCOVERING PURPOSE page, but it is truly a process that you will likely only understand in hindsight.
GET STARTED:
You will find options to…
Engage in private personal services
Explore group services and processes if you prefer more of a community experience.
Do-it-yourself using our tools. It may be a bumpy ride, but the learning of taking your own path has its benefits!
LIBRARY ON PURPOSE:
The "Library On Purpose" is chocked full of oversight, insight, articles, guide modules and tools. These are organized in the subjects of our curriculum for Mastery On Purpose and available with the hope that you will go there to discover and use the resources Mike Valentine has spent over 30 years learning and developing often and successfully.
CONTACT:
This is self explanatory, yet we want to reiterate how it delights us to hear from you and find out how we can be of service!..
SEARCH:
This simple tool may be your very best friend in the use of our website. You can search words or phrases to reveal a list of the subjects or topics that you are interested in.
Thank you for your interest in our processes and services. We appreciate you taking the time to learn more about us and hope we can contribute to your awakening journey and help you make the shift to living and loving On Purpose Now.
"After years of personal growth and development. Purpose is the puzzle piece that brought everything into perspective for me. Mike's deep insights, wisdom, sage advice and the On Purpose Now framework have helped me to achieve an entirely new level of fulfillment, clarity and peace in my life."
"Since I discovered my Purpose...
Connecting, People, Purpose, and their Passion", I love what I do, with people I love, have been compensated accordingly, and enjoy real freedom living my life of intention."
"Mike Valentine is a gifted guide with a beautiful and powerful soul. I had no idea what's possible in discovering the Gifts I'm here to give, the Purpose I'm here to live, and my Vision for the world. This is a priceless gift.
I am forever grateful."
"Attending the 1st School On Purpose, was intense working through our fears. I was amazed when confronted with finding my Purpose. Everyday I am faced with the choice of fear/ego or Purpose. I have the tools and the practice to get back On Purpose Now, so I do."
"The Life Purpose Curriculum and Mike Valentine's guidance is phenomenal. I felt seen, heard and completely understood. This work is practical, powerful and purposeful and so has been my life since."
"Mike Valentine held me accountable for my actions (or lack thereof) and helped me understand clearly why I was resistant to move forward."
"I learned that life purpose is in the way I show up to any situation or challenge instead of in my career or accomplishments. Understanding this difference strengthens my ability to handle all of life's challenges by leaning into my purpose of Integrity, Leadership and Contribution."
"As a mentor, advisor and friend, Mike Valentine gave me insight to be mindful of my gifts and tools to see my life through the lens of purpose.."